UPDATE: We've got a winner! The lovely lady that gets her choice of a printable planner & calendar is

k.michelle

who will get to enjoy these during her favorite month of September!
I'll be emailing you with all the info!
What better way to brighten up a Tuesday than with a giveaway. It's no secret that I love pretty paper products (and chevron). Seriously, it's a small obsession. So when I was getting organized for the new year and stumbled upon Aimee McEwen's lovely Etsy shop – creativitae – I knew I had found a gem.
I first shared the desk calendar I snatched up
here
with some other etsy finds. This little chevron desk calendar brightens up my desk and makes me smile whenever I see it. And because Aimee is so generous, one lucky reader will get own of her printable calendars AND your choice of her cute printable planners.
What you win: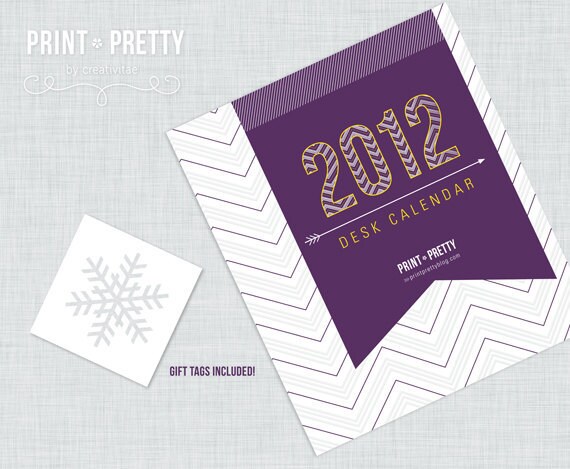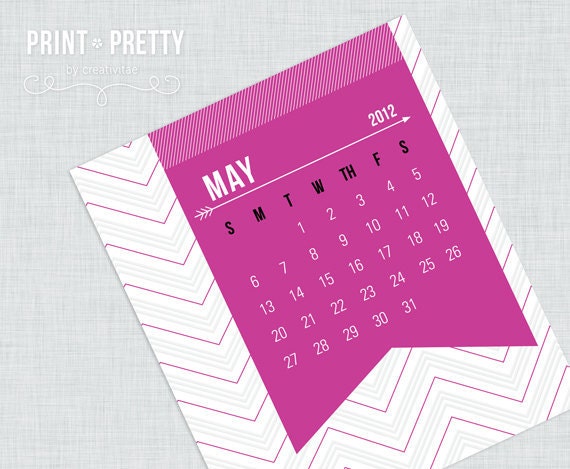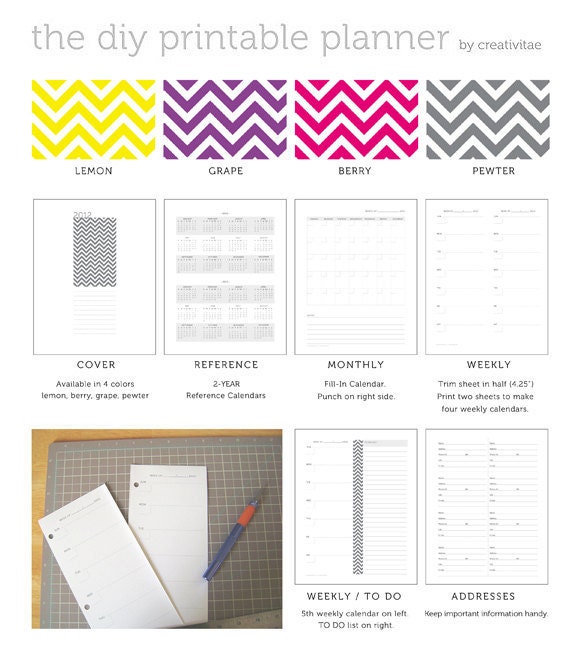 p.s – I love the printable planner that you can customize to exactly what you want/need. I have the hardest time finding a planner that fits my note-making style so this
Here's how to enter:
Giveaway closes on Friday, February 10th at 12 pm (EST).
I asked Aimee to share a little about how she got started (so if you've been considering opening an etsy shop – read below!). She's a girl after my own heart that loves making lists – so I'm looking forward to seeing what she has in store. I see lots more chevron paper products from her in my future. Check out her blog here for more info and visit her Etsy shop.
Enjoy!
Can you give us a little snapshot of your life & how you got started designing? 
I have wanted to be a graphic designer since I was 8 or 9. I used to make my own magazines complete with ads, how to's and assign my little girlfriends articles to write.
I was an odd child.
Color, texture, geekery. I love Pinterest. I allow myself one hour a day of "Pin Time" or else I would be on the site all day long. I'm a huge Star Wars, Muppets, Lord of the Rings geek so those things tend to inspire me – or sedate me / help me to destress / escape.
When did you open your Etsy shop? What prompted you to start your Etsy shop? 
I opened the shop in late 2009. A year after I started my blog. I remember the first time I read a blog and the post was about Etsy. I was like, what's an Etsy? Then I figured it all out and was so thrilled!
I started my blog in late 2008 because I needed a creative space where I could unravel, be inspired and share with a like-minded community. It was a creative space where I could call all the shots. Being a graphic designer means finding visual solutions and a majority of the time you are doing this with other peoples ideas and preferences in mind. It can be stifling. Having my own creative space where I could write, design and illustrate on my own terms was the antidote to that stifled feeling. My Etsy shop is an extension of that (healing) creative space.
What are your favorite things to design? 
I actually prefer illustration to design, it's more fun for me to create little characters/animals or doodle faces of people I don't know and create "life" in a space where there used to be nothing. One of my goals this year is to illustrate more. As for design – I enjoy like pretty stationery and I am a bit obsessed (understatement) with notebooks/journals. I also like writing and am looking for more copywriting work this year.
Who are some of your favorite Etsy sellers? Any favorite other paper designers/sites?
I tend not to search out people that sell the same things I do. I don't want to be inadvertently influenced (that would be awkward). I am always impressed when I see a really well branded shop. I like tarahogan, LittleLionStudios, theLOVEstitch, lovemaestore, le animale, LoveSugar, and I adore roryunraveled. I've attempted to start collecting my favorites on a Pinboard but it's not got a lot (enough) on it yet. Though since Etsy added the "pin it button", pinning is much easier.  (http://pinterest.com/printpretty/)
Any plans to move beyond just planners & calendars? 
I am a HUGE list maker and I keep notebooks in every room of the house, and my purse. I have listed a great many things I would like to sell in the shop at some point. But I have a day job and time is always in short supply, also I am my toughest critic. I will not put anything in the shop until I feel it is "perfect" and something I would definitely purchase myself. Having the resources to produce more printed materials (notebooks, memo pads, stationery, calendars) is always an obstacle. I'm completely comfortable with my "baby steps" strategy until I can offer more.
Are your designs available anywhere else? 
Other than Etsy I'm not selling my designs any where else at the moment. I'm always available for freelance illustration, graphic design, and copywriting. I have a contact page on my blog for inquiries.
Thanks so much Aimee!
Disclaimer  – I was not paid or hooked up with free stuff for this post. Just loved this seller's stuff and wanted to share it!