I love television. I don't care that people think it rots your mind, I don't care that it wastes precious time that I could be outside – I just love it. Always have, always will.
Other than the mindless (or sometimes very mindful) entertainment it provides, I love certain shows for the stars and their style. So since some of my favorite TV babes are on tonight (Pretty Little Liars, duh), I thought I'd do a little television inspiration post. Just all my small screen style loves in one place.
Nashville: Love the music, love the cat fights and love Juliette Barnes wardrobe (and Rayna James aka Connie Britton's hair). If I was petite like Hayden Panettiere, I'd copy every single outfit she wore after episode 7 or 8 (at the beginning things were a little sketchy). This black dress is an absolute favorite.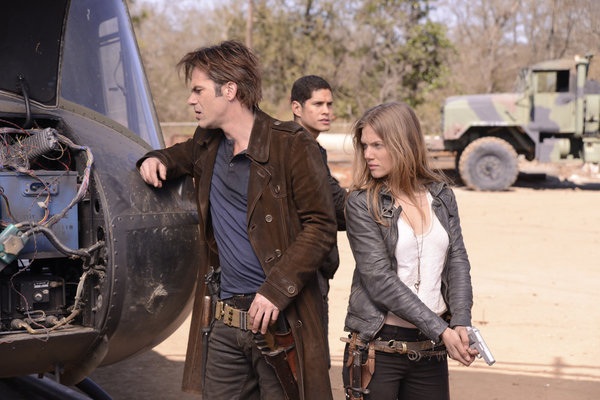 Revolution: Okay first off, I can't believe this show is on network television because it is crazy gruesome . That being said, I am not-so-secretly (anymore) obsessed. So many former LOST people, I love it. This show doesn't seem as obvious for the fashion but I've never seen two girls – Charlie & Nora – look so great for living without indoor plumbing and blow dryers. I also credit my new found love of all things army green to this show.
Revenge: Is there a better dressed cast on all of television (maybe Scandal but I haven't done my marathon of it yet)? Forget Emily Thorne, if I could steal Ashley Davenport's (aka Ashley Madekwe) closet, I would in a heartbeat. She always looks perfectly put together from head to toe. Oh and in real life, she has a pretty amazing blog too. Consider me jealous.
Pretty Little Liars: Obviously. I know I don't need to go on but in case you haven't heard my ramblings before – see this, this or this. I also may or may not have just started a pinterest board dedicated to PLL style. It's official, I have a problem. 
How I Met Your Mother: I love how Robin dresses like a normal person with a little extra sparkle (no pun intended – if you watch the show, you know). And as much as I love the Robin & Barney storyline, I wish we could get Quinn back on the show for her style alone. Those boots above are definitely on my wish list.
So those are some of my favorites from shows on the air right now. If we included ones that are finished this list would be a mile long – Friends, Beverly Hills, 90201, Sex in the City, Gossip Girl, Saved by the Bell, LOST (weird but true), ALIAS …
I know I didn't include everyone's new fav, Scandal but I couldn't include it until I actually watch it (which will be soon I'm sure). What are your favorite shows? Any TV style icons?